Miller, Canfield, Paddock and Stone, P.L.C., Chicago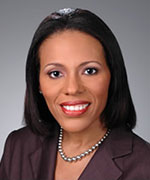 LaVon M. Johns is a Partner in the Chicago office of Miller Canfield. LaVon has represented numerous commercial and industrial clients in multi-million dollar commercial real estate transactions, including acquisitions, dispositions, real-estate based financings, workouts, development transactions, office and retail management transactions, and complex commercial and office lease transactions relating to real property located in the U.S. and abroad. She also represents not-for-profit organizations on governance issues and the development of real estate. LaVon has extensive experience in counseling clients engaged in corporate mergers and acquisitions involving real property.
LaVon has significant experience in advising government in public/private partnership infrastructure transactions.  Over the past 10 years, she has acted as lead real estate counsel to the City of Chicago in a $1.8 Billion transaction in the privatization of the Chicago Skyway Toll Bridge, a $563 Million transaction in the privatization of the Chicago Parking Garage System and the initial $2.8 Billion proposed privatization of Chicago's Midway International Airport.
For nearly 20 years, LaVon has advised nonprofit and faith-based institutions, foundations and organizations.  She has provided legal counsel to some of the most recognized faith-based organizations located within the Chicagoland area on issues relating to nonprofit federal and state law governance, local governmental politics and relations, governmental compliance and 501 regulatory issues, commercial real estate development (including expansion and leasing), real property gifts issues, unrelated business income, real estate property tax issues, foreclosure and workouts.  In addition, LaVon has represented numerous faith-based lenders in connection with loans to faith-based borrowers and in the execution of loans for charitable purposes and missions.
LaVon has a broad range of legal proficiency, experience and practical knowledge in all facets of commercial lending and asset-backed financings. For over 20 years, she has advised numerous borrowers and lenders, including banks, financing companies, financial institutions and governmental entities in a variety of secured and unsecured financing transactions, including refinance transactions, lines of credit, letters of credit/credit enhancement, conventional mortgage loans, TIF financings, LIHTC financings, NMTC, receivable financings, loan portfolio acquisitions, workouts and foreclosures, senior and subordinated loan participations, construction financings, equipment financings and sale and leasebacks.  She also has extensive experience representing banks and financial institutions that are subject to FDIC loss/share agreements.
LaVon was selected as one of "40 Illinois Attorneys under 40 to Watch" by Law Bulletin Publishing Company in 2004. In 2006, 2008, and 2011-2017, she was selected for inclusion on the Illinois Super Lawyers® list of Top Rated Attorneys in Real Estate.  She has been named one of the 100 Top Women in Real Estate by the Illinois Real Estate Journal for the past seven years.
LaVon is listed in the 2010 and 2011 editions of The Best Lawyers in America - the definitive guide to legal excellence in the United States. From 2011 through 2016, she has been selected as a Leading Lawyer by the Leading Lawyers Network. She is a Chicago United Leaders Council Member and was selected to serve on the 2015 Business Leaders of Color Nominee Ranking Committee.
LaVon attained the Leadership in Energy and Environmental Design Accredited Professional (LEED AP) accreditation issued by the U.S. Green Building Council. She is currently one of very few attorneys in Illinois to attain this designation.  She is a member of the American Bar Association (Affordable Housing Subcommittee), National Bar Association, The Economic Club of Chicago, Chicago Bar Association, Lambda Alpha International – Ely Chapter, and U.S. Green Building Council (Chicago Chapter), Urban Land Institute, and Women in Planning and Development.  LaVon is a Title Agent on behalf of Chicago Title Insurance Company and First American Title Insurance Company.  She is also a member of the Board of Directors of the Monarch Award Foundation.  In 2012, she was appointed to the Cook County Land Bank Advisory Committee, a mechanism for redeveloping vacant and tax delinquent property in the County.
LaVon currently serves as an Adjunct Professor teaching commercial real estate transactions at the Northwestern Pritzker University School of Law, is a lecturer at the National Business Institute, and has participated as presenter or panelist for such organizations as the ABA, Chicago Urban League, Lambda Alpha International and IICLE.  She has contributed to a variety of IICLE publications, including Real Estate Litigation.
LaVon earned her Juris Doctor at Northwestern University School of Law, Chicago in 1996 and a Bachelor of Arts cum laude from Creighton University in 1993.
She is admitted to practice in Illinois.