Valentine Austriaco & Bueschel, P.C., Chicago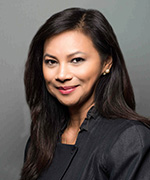 Aurora is a Shareholder with the firm Valentine Austriaco & Bueschel, P.C. She concentrates her practice in the areas of commercial and real estate litigation, construction litigation, mechanics' liens, defense of mortgage foreclosure, mortgage fraud - plaintiff, title insurance claims litigation, and other special chancery remedy cases. Her clients range from multinational corporations to small and startup companies to individuals.
Aurora is currently serving as Commissioner for the Illinois Courts Commission and is in her 12th year as Chair of the Cook County State's Attorney Asian Advisory Council. She served 9 years as Commissioner for the Park Ridge Planning and Zoning Commission, and has served 11 years as Commissioner for the Cook County Human Rights Commission. She is the immediate past president of the Chicago Bar Association, and was named a Super Lawyer-Real Estate, one of the Top 10 Women Consumer Attorneys by Leading Lawyers, and one of the Top 10 Women Lawyers in Real Estate.
Aurora earned her B.A. from DePaul University and received her J.D. from DePaul University College of Law. She is also fluent in Tagalog.