Greensfelder, Hemker & Gale, P.C., Chicago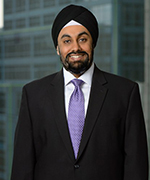 Upneet is an officer with the Business Services Group at Greensfelder, Hemker & Gale, P.C. He represents businesses in a broad range of corporate transactions and commercial real estate matters in a variety of industries. Upneet represents clients in M&A transactions, day-to-day corporate counseling and the acquisition, disposition, leasing and financing of all types of commercial real estate including retail spaces, oil and gas assets, office spaces, industrial properties, health care facilities and mixed-use and multifamily properties. His practice covers a spectrum of industries, including energy (oil and alternative energy), technology, health care and finance.
Upneet negotiates asset sale and stock transactions, fundraising and investment documentation together with other agreements related to licensing, employment, franchising, joint ventures and marketing ventures on behalf of businesses, issuers, investors, and employees. He draws on his experience from a broad spectrum of multimillion-dollar commercial transactions.
In addition, Upneet represents a number of regional and national lenders in complex financing transactions involving commercial real estate, asset-based lending and other types of secured lending in single-bank and syndicated financing transactions.