The Northern Trust Company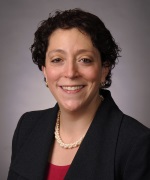 Stacy E. Singer is a Senior Vice President, Central Region Advisory Practice Executive and National Director of Estate Settlement Services at The Northern Trust Company in Chicago, where she works closely with trust professionals on all aspects of the delivery of fiduciary services to clients throughout the Midwest. She also oversees the delivery of estate settlement services across all of Northern's U.S. offices. She previously served as a Manager of Estate Settlement Services at Northern. She joined Northern Trust in 2003.
Stacy was previously a Vice President in the Estate Administration Division at Harris Trust & Savings Bank in Chicago, where she handled the administration of decedent, minors and disabled estates. Prior to Harris, she was a member of the estate and succession planning department at Burke, Warren, MacKay & Serritella, P.C., where she specialized in estate and succession planning strategies, estate and trust administration and guardianship for minors and disabled adults. She has been appointed as a Guardian ad Litem in both decedent and disabled estates and as a Special Administrator in decedent estates.
Stacy is an adjunct professor in the LLM Program for Tax and Employee Benefits at The John Marshall Law School, and is a member of the Board of Directors of the Chicago Estate Planning Council. She served on the faculty of the American Bankers Association National Trust School for five years and is past chair of the Chicago Bar Association Trust Law Committee. She is a regular speaker for the Illinois Institute of Continuing Legal Education and the American Law Institute (formerly ALI-ABA) and frequently speaks before a broad spectrum of civic and professional groups, including the Internal Revenue Service. She has written extensively for numerous publications, including Trusts & Estates, Advancing Philanthropy, Estate Planning and numerous IICLE publications.
Stacy holds a B.A., with distinction, from the University of Michigan and received her J.D. from the University of Michigan Law School in 1992. She is a member of the Chicago Bar Association and of the Professional Advisory Committee of the Jewish United Fund of Metropolitan Chicago, the Technion Institute, and the Hadley School for the Blind.