City Attorney, City of Lockport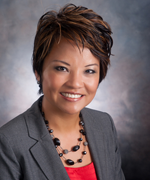 Sonni Choi Williams is City Attorney for the City of Lockport. Previously, Sonni served as the Deputy Corporation Counsel for the City of Peoria, where she has worked for the City's Legal Department for more than 17 years, starting as the Assistant Corporation Counsel. Her more than 15 years of litigation experience covers multiple practice areas, including negotiating settlement agreements of lawsuits involving multiple defendants with potential high figure liability both through in-court mediations and out of court.
Sonni received her Bachelor of Arts from the University of Iowa and her juris doctor degree from Northern Illinois University.
An active member of numerous organizations and respected professional practitioner in both state and federal courts, Sonni is a member of the American Bar Association, the Illinois State Bar Association, Illinois Local Government Lawyers Association, Peoria County Bar Association, and Abraham Lincoln Inn of Court. Sonni is the 3rd Vice President of the Illinois State Bar Association. She also serves as a Chair member of the Hearing Board for the Attorney Registration & Disciplinary Commission (ARDC). She was appointed by the Illinois Supreme Court to serve on the Special Supreme Court Committee on Civility which recommended the establishment of the Illinois Supreme Court Commission on Professionalism (ILSCCP) in 2005. She has been a member of the Illinois Supreme Court Commission on Professionalism since its inception in 2005.
Sonni has been the recipient of numerous awards recognizing her professional acheivements, including the 2006 Northern Illinois University College of Law Young Alumnus of the Year Award; the 2008 Illinois Institute of Local Government Law Annual Achievement Award; and the 2010 ISBA Board of Governors Award. Her professional activities include: PCBA Diversity Committee, Chair, 2005-2007; PCBA Young Lawyers Committee, Chair, 2002-2003; PCBA Lincoln Memorial Banquet Committee, 2003-present; ISBA Standing Committee on Judicial Evaluation-outside Cook County, 2004-present; ISBA Standing Committee on Racial and Ethnic Minorities and the Law, Chair 2009-2010; ISBA Diversity Leadership Council; and PCBA Standing Committee on Mentoring, Chair 2012-2013.
Sonni has been a presenter at various seminars on a variety of topics, including: Federal Practice Seminar (Enforcement of Settlements); Open Meetings Act; Ethics; New Supreme Court Rules on Ordinance Prosecution; Landlord Licensing and Regulations; Whistle Blowing in the Government Sector; Pros and Cons of Administrative Adjudication of Municipal Code Violations; and Vehicle Impoundments.
Sonni's service to the community includes serving three years on the Foundation Board for EP!C, f/k/a Parc, whose mission is to enrich the lives of children and adults with developmental disabilities. In addition, she has shared her story of being a poor immigrant overcoming obstacles to obtain the "American Dream" at swearing in ceremonies for new citizens.
Sonni was admitted to practice in Illinois in 1999; the U.S. District Court for Central District, Illinois, 2002; the U.S. Court of Appeals, 7th Circuit, 2007; and the U.S. Supreme Court, 2013. Education: J.D., Northern Illinois University College of Law, 1999, B.A., University of Iowa, 1994