Deputy Corporation Counsel, City of Lockport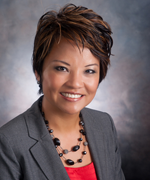 Sonni Choi Williams is the City Attorney for the City of Lockport, IL. Prior to Lockport, she worked for the City of Peoria as an in-house attorney for over 17 years with the focus on municipal law; litigation of complex civil tort and injunctive cases in state and federal courts; and appeals, successfully arguing before the 3rd District Appellate Court, 7th Circuit Court of Appeals, and the Illinois Supreme Court.
Ms. Williams has been admitted to the practice in Illinois, 1999; U.S. District Court for Central District, Illinois, 2002; the U.S. Court of Appeals, 7th Circuit, 2007; and the U.S. Supreme Court, 2013. Education: J.D., Northern Illinois University College of Law, 1999, B.A., University of Iowa, 1994. Ms. Williams is a Commissioner on the Supreme Court Commission on Professionalism formed under Supreme Court Rule 799 as well as a Chair member of the Hearing Board of the Illinois Attorney Registration & Disciplinary Commission (ARDC) and a member of the American Bar Association (ABA); Illinois State Bar Association (ISBA); Peoria County Bar Association (PCBA) and Abraham Lincoln Inn of Court. Ms. Williams has served two terms on the ISBA Assembly representing the 10th Judicial Circuit and currently serves as the ISBA Board of Governor for Area 4 (10th, 14th & 15th circuits).
Ms. Williams has received the 2006 Northern Illinois University College of Law Young Alumnus of the Year Award; the 2008 Illinois Institute of Local Government Law Annual Achievement Award; and the 2010 ISBA Board of Governors Award. Professional activities include: PCBA Diversity Committee, Chair, 2005-2007; PCBA Young Lawyers Committee, Chair, 2002-2003; PCBA Lincoln Memorial Banquet Committee, 2003-present; ISBA Standing Committee on Judicial Evaluation-outside Cook County, 2004-present; ISBA Standing Committee on Racial and Ethnic Minorities and the Law, Chair 2009-2010; ISBA Diversity Leadership Council; and PCBA Standing Committee on Mentoring, Chair 2012-2013.
Ms. Williams has been a presenter at various seminars including Federal Practice Seminar (Enforcement of Settlements); Open Meetings Act; Ethics; New Supreme Court Rules on Ordinance Prosecution; Landlord Licensing and Regulations; Whistle Blowing in the Government Sector; Pros and Cons of Administrative Adjudication of Municipal Code Violations; and Vehicle Impoundments.
Ms. Williams' service to the community includes serving eight years on the governing Board and three years on the Foundation Board for EP!C, f/k/a Parc, whose mission is to enrich the lives of children and adults with developmental disabilities. In addition, Ms. Williams has shared her story of being a poor immigrant overcoming obstacles to obtain the "American Dream" at swearing in ceremonies for new citizens. Ms. Williams is a member of Kiwanis Club of Peoria; Rotary Club of Peoria-North; and League of Women Voters of Greater Peoria.