60th Annual Estate Planning Short Course (2017)
This comprehensive program provides experienced estate planning practitioners with insights and practical knowledge.
Credits:

10.5 General, 0 Diversity/Inclusion PR, 0 MH/SA PR, 1.75 Other PR

Product ID:

P9004-17U

Formats:



Description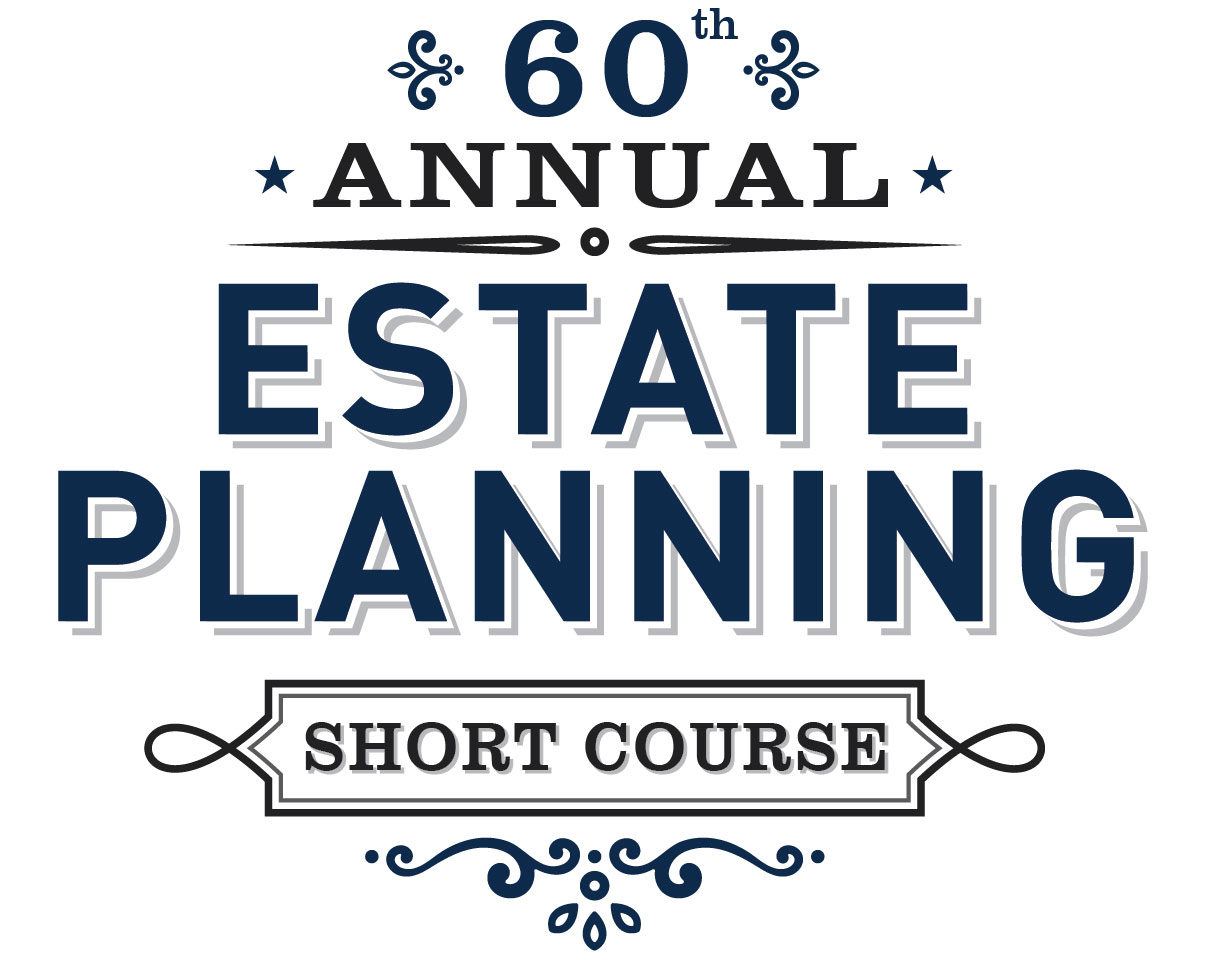 Recorded: May 24 & 25, 2017
DAY ONE
Moderated By: Kim Kamin, Gresham Partners, LLC, Chicago
Recent Developments in Federal Estate, Gift and Generation-Skipping Taxes
This session will provide an overview of the new law affecting this area in the last year.
Karen Van Meter, McDermott Will & Emery LLP, Chicago
Federal Income Taxation for Estate Planning & Administration
We will provide an overview of recent developments in income tax matters and the impact in estate planning and administration.
Robert A. Romanoff, Levenfeld Pearlstein LLC, Chicago
Adam Garber, Levenfeld Pearlstein LLC, Chicago
Illinois Law: Case Decisions & Trends
Get up-to-date on new cases and Illinois legislation specifically applicable to estate planning, estate taxation, trusts, Medicare, and more.
Robert E. Hamilton, Hamilton Thies & Lorch LLP, Chicago
Bulletproofing your Estate Plan
This session will cover forms, strategies and trends in the law, designed to insure compliance with the decedent's intent.
David A. Baker, McDermott Will & Emery LLP, Chicago
The Hon. James Riley, (Ret.), Cook County Circuit Court, Probate Division, Chicago
Peter J. Schmiedel, Fischel & Kahn, Ltd., Chicago
Post Mortem Tax Planning
Some of the most important planning occurs after the client's death. This session will discuss the income and estate planning elections available post death to minimize or eliminate income, estate and gifts taxes. Among the topics discussed will be the administration expense election, the alternate valuation election, disclaimers, portability, Section 303 redemptions, Section 6166 deferral of estate tax attributable to closely held businesses, S corporation issues, the Section 754 election for partnership interests, and more.
Jeremiah W. Doyle IV, BNY Mellon Wealth Management, Boston
Middle of the Night Calls
(0.75 Professional Responsibility Credit)
It's 3:00 in the morning and the phone rings. One of your clients is calling with an emergency that, while both terrifying and fascinating, has little or nothing to do with your practice area. What should you do? No 3:00 a.m. phone call should be answered without a battle plan. This session will offer real-life examples and solutions for criminal emergencies, medical and psychiatric crises, and other problems that seem to favor the late-night hours and often feature telephone calls to unsuspecting (and sound asleep) attorneys.
Edward J. Austin, Edward J. Austin, P.C., Chicago
Martha Kern, LifeCare Innovations, Burr Ridge
Champaign: Ken Kugelberg, Generation Law Ltd., Elmhurst
Chicago: Ben A. Neiburger, Generation Law Ltd., Elmhurst
DAY TWO
TRACK A Moderator:
Janet Rae Montgomery, Daluga Boland & Montgomery, LLC, Chicago

TRACK B Moderator:
Fred Weber, Northern Trust, Chicago

Key Developments in Guardianship


Learn the latest on guardianships, including recent issues relating to estate planning and divorce.



Ray J. Koenig III, Clark Hill PLC, Chicago
Kristin Weaver, Northern Trust, Chicago

Current Developments – and Time Tested Principles – of Planning with Valuation Discounts

This session will provide a comprehensive review of valuation discount planning under present law and will consider the impact of proposed legislation and regulations. The panelists will approach the topic both from the planning and the valuation perspectives so as to provide practical guidance to practitioners.

Christine R.W. Quigley, Schiff Hardin LLP, Chicago
Aaron M. Stumpf, Stout, Risius, Ross, Inc., Chicago

Post-Divorce Bliss: Tips for Drafting the Recently (or Not-So-Recently) Divorced Person's Estate Plan and a Discussion of Issues Which May Exist Within the Divorce Documents

This presentation will review the unique issues we face when advising divorced clients how to amend, or more often entirely revise, their estate plan to correspond with their new unmarried status. We will also explore ways we can address and fix problems arising out of divorce-related documents that may frustrate the client's goals or, worse, may create significant controversy and land them in court.

Elizabeth A. Garlovsky, Robbins, Salomon & Patt, Ltd., Chicago
Carrie A. Harrington, Levenfeld Pearlstein, LLC, Chicago

Structuring Trusts and Administration to Minimize Fiduciary Risk

This panel will address options for reducing trustee liability. We will address selection of the governing law, choice of trustee, division of duties among fiduciaries, and due diligence both at the trust acceptance phase and during ongoing administration.

Lorraine Cavataio, Sandberg Phoenix & von Gontard P.C., O'Fallon
Stacy E. Singer, Northern Trust, Chicago
Lauren J. Wolven, Levenfeld Pearlstein, LLC, Chicago


State Income Taxation of Trusts: Update after Linn, McNeil, and Kaestner

Recent fiduciary income tax cases have challenged a state's ability to tax a trust for state residency purposes. The Linn case in Illinois has alerted practitioners advising trusts in other states to evaluate the constitutional basis regarding state taxation of trusts.

David A. Berek, Baker & McKenzie LLP, Chicago

The ABC's of Long Term Care Issues:
26 Tips for Real Life

Knowing a bit about long term care issues, such as Medicare and Medicaid, Long Term Care Insurance and facility contracts, can be helpful to issue spot for your estate planning clients and your family members. In this session, attendees will learn about the 26 Tips for Real Life which will be useful to the estate planner on many different levels.

Linda M. Strohschein, Strohschein Law Group, LLC, St. Charles

Pre-Sale Planning for Businesses
Effective planning before the sale of a business can minimize both income and transfer taxes. This course will explore wealth transfer strategies to consider before the sale of a business to transfer value to family members while minimizing transfer tax costs. In addition, this course will explore income tax strategies that could increase the after-tax proceeds from the sale of a business.


Patrick J. McCurry, McDermott Will & Emery LLP, Chicago
Karin Prangley, Brown Brothers Harriman, Chicago
Champaign: Michael J. Sorrow, McDermott Will & Emery LLP, Chicago
Chicago: L. Timothy Halleron, McDermott Will & Emery LLP, Chicago

Probate Judges' Panel – Decedents' and Guardianship

Local judges answer YOUR questions about Cook County probate. This session presents a rare opportunity to help demystify everyday and unique processes and procedures, involving both decedents' and guardianship estates.

The Hon. Susan M. Coleman, Circuit Court of Cook County, Chicago
The Hon. Daniel R. Degnan, Circuit Court of Cook County, Chicago
The Hon. Karen L. O'Malley, Circuit Court of Cook County, Chicago


Panel Moderators:
Elizabeth A. Garlovsky, Robbins, Salomon & Patt, Ltd., Chicago
Natalie M. Perry, Ice Miller LLP, Chicago

Key Considerations in Planning for C Corporations, Including the Qualified Small Business Stock Exclusion

This session will cover the benefits, requirements, and planning opportunities involving C Corporation stock, including the Qualified Small Business Stock ("QSBS") Exclusion. The rules applicable to QSBS can offer many tax advantages to entrepreneurs and investors. However, clients and their advisors often are unaware of the existence and benefits of QSBS. This program will provide an overview of the QSBS rules and explore the planning opportunities available. The speakers also will address other C Corp issues such as the income tax consequences of capital contributions to C Corps and distributions from C Corps to shareholders (issue of dividend vs. redemption), investment in C Corps treated as equity vs. debt, and other related topics.


Benetta Park Jenson, J.P. Morgan, Chicago
Stuart J. Kohn, Levenfeld Pearlstein LLC, Chicago

Portability- You Can "Double Up" on your Federal Estate and Gift Tax Exclusion (At a Cost)

The ability to use a deceased spouse's unused exclusion amount ("portability") creates opportunities for estate and gift tax planning. This program will discuss what portability is, how it is obtained, how it can be used and how it can be lost.

Gregg M. Simon, Much Shelist, PC, Chicago
Kevin M. Noonan, Much Shelist, PC, Chicago

Managing Ethics In Your Practice and the Future of Attorney Regulation
(1.0 Professional Responsibility Credit)

We will discuss the future of attorney regulation and the interplay between civil liability and discipline for attorneys. We will also discuss dealing with conflicts in estate planning and recent disciplinary cases involving clients who had capacity issues.
Thomas L. Browne, Hinshaw & Culbertson LLP, Chicago
Natalie M. Perry, Ice Miller LLP, Chicago
Champaign: Scott Renfroe, ARDC, Chicago
Chicago: Wendy Muchman, ARDC, Chicago

The Ins and Outs of Nonjudicial Settlement Agreements: How Far Can You Go?
(1.0 Professional Responsibility Credit)

Nonjudicial Settlement Agreements (NJSAs) are being used with increasing frequency to solve problems that arise with the administration of trusts. However, some have questioned the risks attorneys encounter when entering into agreements that make sweeping changes. This session will explore the uses of NJSAs, identify the parties that need to consent, and discuss the limits -- often dependent on the settlor's initial purpose in creating the trust -- on what these agreements can accomplish. We will also discuss tax implications of NJSAs, and practical issues with obtaining necessary consents.

Jared R. Cloud, McDermott Will & Emery LLP, Chicago
Pam Lucina, BNY Mellon, Chicago
Materials
Available only for members that have purchased this product.
Program Materials

60th Annual Estate Planning Short Course

Program Materials

60th Annual Estate Planning Short Course

Program Materials

60th Annual Estate Planning Short Course

Click Here to Download Audio Files

60th Annual Estate Planning Short Course

Program Materials

60th Annual Estate Planning Short Course