Schiller DuCanto & Fleck, LLP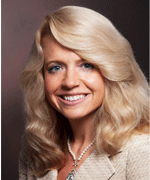 Michele M. Jochner is a Partner at Schiller DuCanto & Fleck, LLP in Chicago. Ms. Jochner served for 15 years as a judicial law clerk to two Justices of the Illinois Supreme Court: the late Hon. Mary Ann G. McMorrow and the Hon. Charles E. Freeman. During her tenure with our State's highest tribunal, she has worked on numerous high-profile matters involving cutting-edge issues of first impression, providing her with a unique breadth and depth of experience in all areas of substantive and procedural law combined with a keen understanding of the mechanics of our trial and appellate courts. Her first-hand experience and crucial insights into the State court system provide her with the basis to craft and communicate compelling legal strategy and arguments.
A recognized legal scholar, expert writer and educator to law students and attorneys, Ms. Jochner has been honored by her peers in "Best Lawyers in America," as a Super Lawyer, as a "Leading Lawyer" who ranks in the top 100 Women Consumer Lawyers in Illinois and as the recipient of the 2015 Top Women Lawyers in Leadership Award by the Women's Bar Association of Illinois. She also has authored nearly 200 articles on a wide array of legal topics appearing in publications nationwide, and her two columns, "Law From a Different Perspective" and "On Appeal," appear regularly in the Chicago Daily Law Bulletin. In addition, she is listed in several "Who's Who" publications, and was previously recognized as one of "40 Illinois Attorneys Under 40 to Watch" by the Chicago Daily Law Bulletin. Ms. Jochner regularly speaks on legal issues to various groups across the State, including seminars on effective legal writing, appellate advocacy, and family law. In addition, for the last decade, she has appeared as part of the "Illinois Law" television broadcasts as a panelist for that series' annual review of United States Supreme Court decisions. She has also served as an adjunct professor at both DePaul University College of Law and The John Marshall Law School. In testament to her career-long commitment to legal education, the Illinois Supreme Court appointed Ms. Jochner to serve as the Vice-Chair its Minimum Continuing Legal Education (MCLE) Board.
As a well-known leader in the Chicago legal community, she is active with many organizations, including the Chicago Bar Association (CBA), where she serves as a member of both the Executive Committee of the CBA's Alliance for Women and of the Editorial Board of the CBA Record, and chairs the CBA's Committee on Public Affairs. She is similarly active with the Illinois State Bar Association (ISBA), where she is a past member of the Board of Governors and the Editorial Board of the Illinois Bar Journal. Currently, she is a co-editor of the Bench & Bar Newsletter, serves as a member of the Family Law Section Council, and is an elected member of the ISBA Assembly. She also serves on the Board of Directors of the Illinois Institute for Continuing Legal Education (IICLE), as well as on three panels at her alma mater, DePaul University College of Law: the Dean's Council, The Schiller DuCanto & Fleck Family Law Center Advisory Board and the Advisory Board for the Center for Public Interest Law. She also holds several leadership positions within the Phi Alpha Delta Law Fraternity, and serves on the Leader Council for Mercy Home for Boys and Girls.
Recognizing the importance of ensuring that the future of the legal profession is in good hands, Ms. Jochner also actively mentors numerous law students at DePaul, as well as through Phi Alpha Delta. Her mentoring efforts were recently recognized by The Chicago Lawyer Magazine in naming her one of 2013's "Women Making an Impact."