Attorneysʹ Title Guaranty Fund, Inc., Chicago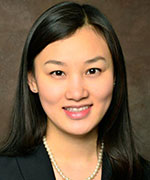 Kathy Xiahou is an underwriting attorney in the Chicago office of Attorneysʹ Title Guaranty Fund, Inc. (ATG). Kathy works with ATG member attorneys, lenders and closers in underwriting all aspects of residential and commercial real estate transactions. She is an editor of Casenotes and Underwritersʹ Bulletin, one of ATGʹs monthly electronic publications.
Kathy is a presenter in ATGʹs legal education programs and has been on the faculty for several IICLE real estate programs. She is a council member of the Illinois State Bar Associationʹs Young Lawyers Division and writes for the divisionʹs newsletter, YLD News.
Kathy received a B.A. from the University of Michigan in 2006. After graduating, she worked in the advertising and media industry in New York City for two years. Then, she returned to school and earned her J.D. from the University of Illinois College of Law in 2012. In her last year of law school, Kathy worked as a law clerk in ATGʹs Champaign office. She was admitted to the Illinois bar in November 2012. Kathy is a certified Illinois Title Professional by the Illinois Land Title Association.